7 must see spots in Gifu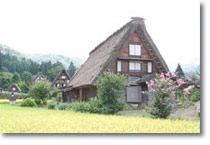 Looking for things to do in Gifu? Gifu has many Edo style towns that has many traditional Japanese houses, including the world famous Shirakawago. However, Shirakawa-go is not only the spots, there are many other cities with full of those traditional buildings in Gifu.

Mino, Gujo, Takayama, Shirakawa-go, Iwamura, Gifu Castle, Yoro Falls.

Takayama Historic District
Travel Information
Old Castle Town with Edo Style
Takayama Historic District (高山の古い町並) is the old Castle Town which still remains many Edo style buildings and one of the most famous spot in Takayama area. Because of those remaining traditional Edo style buildings, the entire area is registered as the Important Preservation Districts for Group of Historic Buildings. This area was developed as the shopping district of Takayama Castle Town. There are many gift shops, food stands, restaurants, local craft shops, cloth shops, and Sake Breweries. Some of the stores exist since Edo Period.

Tourist Info.
There are the visitor's centers which you can hire English speaking guide.

Access
0. at Takayama Station
1. walk east (10 min.)

The contents of this feature