7 must see spots in Chiba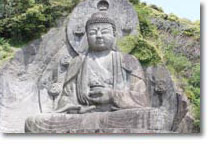 Looking for things to do in Chiba? Chiba has wild nature and great historical site. Chiba has a completely different atmosphere from Tokyo Metro, even though it is located only 1 hours from Tokyo. The nature of Chiba is so wild. Chiba has also many great temples, shrines and Samurai House.

Mt. Nokogiri, Yoro Valley, Katori Shrine, Shinshoji, Sakura, Sawara, Nirvana Statue.

Mt. Nokogiri-yama
Travel Information
Mountain of Giant Stone Satues
Mt. Nokogiri-yama (鋸山) is the stone-mountain located in Awa, Chiba. The Entire mountain is inside of the Nihonji Temple(日本寺). There is the wonderful landscape of Tokyo Bay, Boso Peninsula, and Miura Peninsula at the top of this mountain. From the famous cliff spot, Jigokunozoki(地獄覗き), literary means hell watch stand, you can see the bottom of the cliff from out standing rock. There are over 1,500 Buddha statues, great Buddha and great Kannon in this mountain.

Visitors Info.
There is parking.
Admission fee: 600 yen.
You can use the ropeway to visit the top of the mountain, but the great Buddha is located in the lower part of the mountain. Using the ropeway, exit on Hanakanaya Station.

Access
1. at Kisarazu Station
2. use JR Uchibo Line to Hota (38 min.)
3. walk north (30 min.)
4. use also the ferry from Kurihama, Yokosuka is convenient.
Tour Advice
Recommended month
1
2
3
4
5
6
7
8
9
10
11
12
The contents of this feature