7 must see spots in Hakone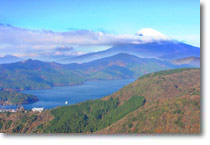 Looking for things to do in Hakone? Hakone is one of the most popular spots in Greater Tokyo Area. It has rich nature and history. It is also famous for Mt. Fuji view point. Because Hakone is located on Tokaido road, Hakone offers traveling nature and history at the same time.

Lake Ashi, Mt. Komagatake, Owakudani, Hakone Shrine, Hakone Sekisho, Hakone Park, Tokaido Cedar Ave..

Mt. Komagatake
Travel Information
Top Mountain of Hakone
Mt. Komagatake (箱根駒ケ岳, hakone komagatake) is the tallest mountain at Mt. Hakone in Kanagawa prefecture. It has 1327m high and you can reach to the top by ropeway. At the top of Mt. Komagatake, you can enjoy great view of Mt. Fuji and Lake Ashino. You can also view the Sagami Bay and Izu Peninsula. There are many hiking courses to reach the top. There is Hakone Motomiya Shrine at the peak of the mountain.
Tousit Info.
Ropeway:
Round trip: 1050 yen for adult, 530 yen for kid.
One way: 620 yen for adult, 320 for kid.
There is group discount for the tickets.
Access
0. at Odawara Station.
1. use Izuhakone Bus to Hakoneen (1hr. 20 min.)
Tour Advice
Spending Time

1 hr. 30 min
The contents of this feature