Check out the Japanese Everyday Dishes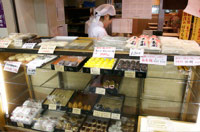 small dietries


There are much more than just sushi or tempra in the world of Japanese foods! You are making a big mistake if you believe that Japanese food are very expensive. Check out the Japanese Shopping Districts which almost all train station have. In these shopping districts, you can buy many Japanese everyday meal with very reasonable price. All of them are not only cheap but also delicious. It is Japanese style dinner for those who don't have enough time to cook. Those food stands are called "Osozai-ya" (Osozai is an accompanying dish) Using Osozai-ya save your money and time, but still offers you great dinner.





Osozai ya


Jujo Ginza Shopping District is an example of such districts. It has over 50 food stands and Osozai-ya. You can try many kinds of delicious Japanese everyday dishes for only around 1000 yen.

Sugamo-jizo Shopping District is another best shopping district. The District was chosen to be the most popular shopping district in Japan, 2006.




Nanohana is one of the great example of "Osozai-ya." They have great Osozai and Bento-box. Especially, their Yakitori is the best. Yakitori is just 100 yen. They have also fresh Sushi and Sashimi, too. Those Sushi and Bento-box are mostly only around 500 yen. When you find a stand like Nanohana, you should check out their foods. They just taste great.

Kashiya Yokocho street






Kashiya Yokocho is a shopping district specializing to Japanse candies and cookies. If you want to check out the Japanese sweets they have all kinds of Japanese sweets with, of course, reasonable price.




Check out those shopping districts and Osozai-ya. They offer you excellent delicacy of Japanese foods with very reasonable price.