Beautiful Valleys and Waterfalls
It's middle of May, and it's getting warmer and warmer each day. With snows on the mountains melting, It is time to hike Japanese beautiful Valleys. There are more rains in May and June, and consequently more water to the rivers. Besides, all trees of mountain start having green leaves which offers special tranquility. We recommend a couple of hiking courses with valleys with beautiful waterfalls.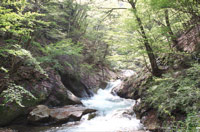 Nishizawa Valley




The Nishizawa Valley is located in northern part of Yamanashi prefecture. It is also chosen as one of the 100 best unexplored nature of Japan. Entire hiking course takes about 4 hours. The river in the valley is called Fuefuki River runnig from Mt. Kobushigatake to the Fuji River. There are many waterfalls in the area. The most famous is the Nanatsugama Godan Falls, one of the 100 best waterfalls in Japan.


Yoro Valley




If you are looking for easier course that does not involve such difference in elevation, we recommend Yoro Valley in Chiba prefecture. Unlike most valleys, Yoro Vally has very flat sidewalk. The sidewalk is placed right next to the Yoro River, so you can feel the soothing power of calm water flowing. Yoro Valley also has many small waterfalls, including beautiful Awamata Falls.


Todoroki Valley




When you don't have much time to go far from Tokyo, Todoroki Valley is the valley for you. Todoroki Valley is located in the middle of Tokyo Metropolitan City. It takes 30 min. from Shinjuku. Though the Todoroki Valley is located in the middle of the world busiest city of Tokyo, it is not a small valley, spanning more than 1km or about a mile, with tons of natural world to walk through. At the end of Todoroki Valley lays the Fudo Falls.



Enjoy Japanese Valley with waterfalls and green leaves!