Let us climb up Japanese Mountains.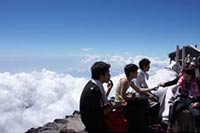 Mt.Fuji Fujinomiya route


Summer in Japan has come and it's time to enjoy Japanese beautiful mountains. First of all, we recommend to climb up the Mt. Fuji. Mt. Fuji is the tallest mountain in Japan and the most beautiful mountain in the world. It is the symbol of Japan. The trekking of Mt. Fuji is very organaized and very easy to access. However, it is the toughest mountain to climb up. When you accomplished the peak, you will feel the power of Mt. Fuji.


Yakushima Jomonsugi trekking




Yakushima has also beautiful hiking with nature. Yakushima Island is the most spiritual nature in Japan. The trekking to Jomon Sugi that is over 7300 years old Cedar is one of the most popular hiking in Japan. You will enjoy Japanese jungle surrounding with deep tropical forest.




Mt.Takao hiking


If you don't have much time to travel around, Mt. Takao is the most reasonable mountain for hiking around Tokyo. It is very easy access and one day hiking from Tokyo Metro.



There are so many beautiful mountains in Japan. If you like hiking check out Japanese mountains. Now is the time to clime up.