One Day Walking Tour around Kamakura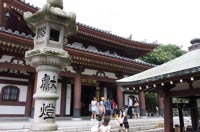 Hasedera


Kamakura is one of the most popular tourist spots around Tokyo Area. It's approximately about one hour from Tokyo Station. For the first time visitors of Kamakura, MustLoveJapan will introduce one day walking tour at Kamakura. Start at Hase station of Enoden Line. Check out Hase Temple which has beautiful garden and huge Buddha Statue. After Hase Temple, walk north about 3 min., there is small but nice temple, called Kosokuji Temple.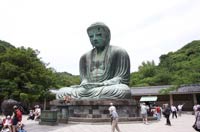 Daibutsu


Kamakura Daibutu is the most famous feature in Kamakura which is located 10 min. from Kosokuji Temple. The great Buddha of Kamakura is about 800 years old and still remains as the original. At the entrance of Daibutsu, there is very interesting martial arts gift shop. You want to buy some gift here.




Hachimangu


Travel north about 45 min. You will be at Sasuke Inari Shrine. It is very interesting shrine with hundreds of Torii Gates, and Zeniarai Benten Shrine is right next to the shrine. Zeniarai Benten Shrine is second popular tourist spots in Kamakura besides Tsurugaoka Hachimangu. There is very interesting fact to visit here. Wash your money, and hopefully it's grown.



After you wash your money at Zeniarai Benten, travel north to see the statue of Minamoto no Yoritomo at Genjiyama park. This park is also the spots where Yoritomo declared his war against Heike. Then, walk east about 30 min. to visit Tsurugaoka Hachimangu Shrine, the most popular spots in Kamakura.



Here is the one day trip of Kamakura to see major tourist spots.



Enjoy Kamakura!