Konnichiwa from the Top of Mt. Fuji!
Konnichiwa from the Top of Mt. Fuji!


The view of the summit, 3776m high


MustLoveJapan is finally able to you introduce you to the top of Mt. Fuji. Mt. Fuji is the symbol of Japan, and the highest mountain in Japan. It is 3776m high. Mt. Fuji offers you the beautiful view and awesome experience; but climbing the mountain is allowed only in summer from July to August.



There are four routes to climb up the Mt. Fuji. Yoshida Route, Subashiri Route, Gotenba Route, and Fujinomiya Route. This time, MLJ team introduces you the Fujinomiya Route, the southern route from Shizuoka prefecture.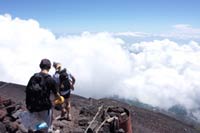 Fujinomiya Route


Fujinomiya Climing Route is the 2nd most popular climbing route, giving a great view of Tokaido area and Kanto region. The altitude of the entrance of the route, to which you can drive up with a car, is about 2,400m high; and that is the highest entrance of the four routes.




The volcanic vent of Mt. Fuji


Kengamine is the summit of Mt. Fuji. Its altitude is 3776m from the sea level, and the highest place in Japan. The view of the summit is breathtaking. This is the center of Japan. The sea of the cloud make you feel that you are walking in the sky!



You have few more days to try Mt. Fuji, till the end of August. See and enjoy what the Japanese heaven looks like!