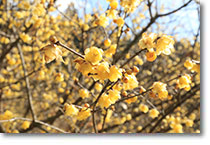 Wintersweets, Robai in Japanese, is the winter flower that bloom from December to March. It has the beautiful yellow flowers and nice smell. Robai means a candle plum because their petals are looks like it.

The kinds of Robai
Mangetsu, fullmoon
Bloom from Nov. to March. It has circular petals and deep yellow color.

Soshin, pure heart
Bloom in Dec. to March. It has thinner and longer petals

Kihonsyu, Japanese Wintersweets
Bloom in Jan. to March. It has a purple color in the center.
Original Robai
Bloom in Feb. to March.It has thinner petals and dark red in the center.