Nikko, the Greatest Mausoleum in the world
Nikko Toshogu


Nikko is the must see spot when you are in Japan. Nikko is located in Tochigi prefecture. The distance from Tokyo is approximate 3 hours. Nikko is the huge mausoleum consisted with two gorgeous shrines and one beautiful temple. All shrines and templ are designated as the UNESCO World Heritage Site. Nikko Toshogu is the most beautiful Shrine in Japan. It enshrines Tokugawa Ieyasu, the 1st Tokugawa Shogun, who won the Sengoku period, took over Japan and established Edo Tokugawa Government.There is a grave of him. Because this was the mausoleum for the most powerful man in the history of Japan at that time, all of the buildings has the best state of art and technology with unlimited budget.




Taiyuin


Taiyuin is the mausoleum of Iemistsu, 3rd Tokugawa Shogun and grand son of Ieyasu. It is another beautiful building of Nikko. The buildings of Nikko Toshogu are considered gorgeous.The buildings of Taiyuin are all less scale and beautiful than Toshogu. Therefore, the color scheme is very simple and based on black and gold. However, this turns out very rich architecture and arts.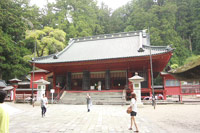 Futarasan Shrine


Another important shrine is Futarasan Shrine. It is the original shrine of Nikko. Comparing to other shrine and temple, Futarasan shrine is the harmony of building and nature. It has beautiful cedar trees in the shrine. The main building was constructed by Hidetada, 2nd Tokugawa Shogun.



These two shrines and temple are must visit spot around Tokyo. If you have not visit Nikko yet, you must visit Nikko. They are the best mausoleum in the world.