Hinamatsuri, the Japanese Doll Festival!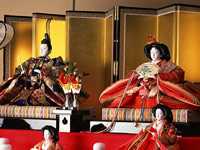 Traditional Hina-kazari


March 3 in Japan is Hinamatsuri. Hinamatsuri (髮帷・ュ繧・, The Japanese Doll Festival or Girls' Day, is the one of the important ceremony for young girls which apply until about age of 7 years old. At Hinamatsuri, parents decorate Hinakazari which is the platforms with traditional Japanese dolls to cerebrate healthy growing for their girls. Those dolls are representing the Emperor, Empress, attendants, and musicians in traditional court dress of the Heian period.




Nagashi bina


The custom of displaying dolls began during the Heian period which is about 1200 years ago. Formerly, people believed the dolls possessed the power to contain bad sprits. Hinamatsuri is also traces its origins to an ancient Japanese custom called Nagashi-bina, in which straw Hina dolls areset afloat on a boat and sent down a river to the sea, supposedly taking troubles or bad sprits with them.



At the festival, most of the families hold a party. At the party, they serve amazake, a sweet non-alcoholic sake, and Hishimochi, three-color rice cake. The colors of Hishimochi are pink, white and green, which represent, arrival of spring by plum flowers, melting show, and green leaves. Mostly, they have Chirashi-sushi.




Usaburo style


If you have young girls, try to have Hinamatsuri party. Preparing Hinakazari, the dolls, might be expensive and take time, so we recommend to buy Hinakokeshi of Usaburo Kokeshi, which is very cute and reasonable.



Enjoy Hinamatsuri!



Check out the Usaburo Kokeshi