Casltes in Japan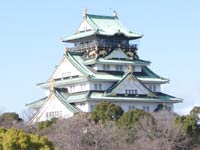 Osaka Castle


MustLoveJapan presents the greatest Japanese castles. There are over hundreds of castles all over Japan, and there are 12 existing remaining castles that were built before Edo Period. MustLoveJapan strongly recommend you to visit the following three castles, Himeji, Matsumoto and Inuyama. They are also the national treasure of Japan.




Himeji Castle


The Himeji Castle (姫路城) is one of Japan's three most famous castles and is the most visited castle in Japan. It is located in Himeji in Hyõgo Prefecture. It is also known as Shirasagi castle which means "White Heron castle ( 白鷺城, shirasagi-jo)" because of its brilliant white walls. Himeji Castle is the only castle which still remains all structure of the original castle as a fort. It will be close for repairing from April 2010 to 2015. Hurry up and check it out.




Matsumoto Castle


The Matsumoto Castle (松本城) is built in 1593. It is Combined towers structure Tenshu which as 29.4m high from ground level. As 5 Layered 6 stories high Tenshi, Tenshu of Matsumoto Castle is the oldest which still exists. This castle is listed as the National Treasure of Japan, and chosen as the four best castle of Japan. Because it painted deep black, it is also known as Crow Castle. In side of the Tenshu, is exhibition area for Rifles and armors from Sengoku Period.


Inuyama Castle




The Inuyama castle (犬山城, also called Inuyama Hakutei castle) is located in the city of Inuyama in Aichi Prefecture, Japan. The castle overlooks the Kiso River, which is on the border of Aichi and Gifu prefectures. Inuyama castle is recognised as the oldest standing castle in Japan, having been originally built in 1440.



Enjoy the real history of Sengoku Period of Japan!


// //