Tokyo is filled with the Christmas Illuminations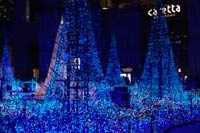 Shiodome Caretta Illumination


Winter came to Japan, and Tokyo starts lightened up in the night with various colors of Christmas Illumination. Christmas Illumination is one of the main feature of Tokyo Winter. Many popular place such as Roppongi Hill, Odaiba, Shiodome or Omotesando will have their unique Illuminations. It is one of the beautiful aspects of Tokyo's winter. Especially, Shiodome Caretta Illumination is one of the best ones in Tokyo.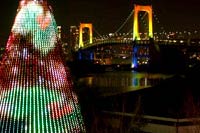 Odaiba


Odaiba also has a beautiful Christmas Illumination. It has a huge Christmas Tree filled with millions of light. From Odaiba, you can also see Rainbow Bridge and Tokyo Tower that both are also has lighten up. They have a photograph shooting service for the visitors. It will be great spot for dating.




Omotesando


The light up of Omotesando also one of the famous illuminations. On the Omotesando ave. over 900 thousand lights are decorated and illuminate Omotesando beautiful. Not only those popular spots, but also almost everywhere in Tokyo has a beautiful Christmas Illuminations. Enjoy Tokyo winter night now.