Check out 200 Osaka Waterfalls!
Neo Falls


Do you like Waterfalls? MustLoveJapan introduces Osaka Town which has the largest numbers of waterfalls in Japan. There are over 200 waterfalls, including Neo Falls, one of 100 best waterfalls in Japan. Waterfalls are the gifts from the nature and the Osaka waterfalls is registered as the first treasure of Gifu. To cover such a large numbers of waterfalls, Osaka offers 13 different hiking courses.




Mitsutaki course


There are three levels of courses. Beginner's class, middle's class, and expert's class. Middle's and expert's classes requires the professional guide. This time MLJ introduce beginner's courses, by which you can easily enjoy hiking with beautiful waterfalls. Mitsu Falls' course, also known as Gandate Valley, is the most popular hiking course in Osaka. You can enjoy hiking with dynamic valley with great waterfalls. If you want to travel farther, you can visit Neo Falls on the deep side of the valley.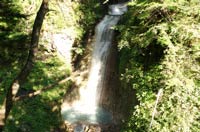 Sennintaki course


Sennin Falls' course is another beginner's hiking course near the entrance of Mt. Ontake (3,063m). There are three waterfalls, Sennin Falls, Shiraito Falls and Hi Falls, easily accessible from the starting point. Nigorigo Onsen, the starting point of this course, is also the entrance of Mt. Ontake. So, if you are looking for great mountain climbing, check out this course before or after climbing Mt. Otake to enjoy Onsen.



There are 10 more hiking courses and over 200 more waterfalls to see in Osaka. If you are big fun of waterfalls, you can spend years to see all of beautiful waterfalls!