For fans of Takeda Shingen and Uesugi Kenshin
Statues of Shingen and Kenshin


MustLoveJapan introduce the great battlefield of Kawanakajima where Takeda Shingen and Uesugi Kenshin had battles for five times in 12 years. The most famous battle, which is THE battle of Kawanakajima, is the fourth battle in 1561. It is called the Battle of Hachimanbara. The famous "Ikkiuchi" statue is placed at the Hachimanbara park where the legendary face-to-face combat between Shingen and Kenshin took place.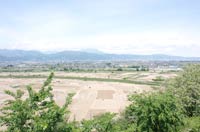 Kawanakajima


Kawanakajima is located in north Nagano prefecture. The main reason why Shingen and Kenshin fought so many times is because it is important location that connects Echigo, Shinano, Kai, and Kouzuke. Also, the area of Kawanakajima is one of few location in Japan which is able to take double cropping. At Mt. Saijo where Kenshin set his headquarter at the 4th battle, you can see the great view of Kawanakajima. It gives you the great image of how the battle was processed at that day.




Kaizu Castle


A Kaizu Castle was built in 1560 by Shingen to protect the area of Kawanakajima. Shingen also stayed at this castle during the 4th battle. From this castle, you can also see Mt. Saijo and area of Kawanakajima.



At the Hachimanbara park, there are many ruins form the battles. Also, there is a map with explanation of the Battle of Hachimanbara.



If you are big fan of Takeda Shingen or Uesugi Kenshin, or love Japanese Samurai History, check out Kawanakajima, one of the most famous battlefield in the world.