Cool spots to escape from the hot weather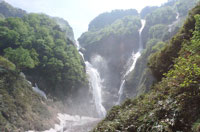 Shomyo Falls


It's July. Soon, Japanese raining season will be over, and Japanese summer will begin. If you are looking for cool spots to escape from the HOT summer, MLJ offers you the great waterfalls. Japanese Alps has many great waterfalls. And this time, MLJ introduce the greatest three waterfalls located in the North Alps (Kita-Alps). First of all, the Shomyo Falls is the must-see waterfall of Japan. It's the tallest waterfall in Japan, about 350m high in total. The mists from the waterfall must give you cool and refreshing air!




Hirayu Great Falls


At Mt. Norikura, there are many great waterfalls, including two of the 100 best Japanese waterfalls. On the Gifu Side of Mt. Norikura, the Hirayu Great Fall are waiting for you. It is conviniently located in Onsen town; so, you can enjoy Onsen and great waterfalls at the same time.




Sanbon Falls


Nagano side of Mt. Norikura is also a popular waterfalls spots. The Sanbon Fall is one of the 100 best Japanese waterfalls. This side of Mt. Norikura is popular summer resort with cool temparature during summer. There are many hiking courses offering the great nature and many waterfalls.



Feel hot and got tired of it? Check out waterfalls of North Alps!