Watch Out! The coldest season in Japan has come!
Waterfalls are frozen up


Taikan(大寒), the coldest season in Japan, has come. The average temperature will be down to 0°C (32 °F) even in Tokyo area. Be careful, even waterfall is freezing and lake become ice. In this time, we have snowing all over in Japan.


It is one of the toughest season to live in Japan. However, there are many unique face in this time.


Check out the frozen waterfalls in Hinohara, Tokyo, and northern part of Kanoto region. In Hinohara village, if there is snow in Tokyo metropolitan, those waterfalls in Hinohara will be frozen. Hossawa Fall is one of the 100 best falls in Japan, and also known as the frozen fall in Tokyo. Even global warming is happening, this waterfall sometimes frozen up completely. It is very unique and interesting to see frozen falls. Not only Hossawa fall, but also there are couple of more falls frozen up, too.




Fukuroda and Fukiware Falls are also well known as frozen fall in the winter. Especially, Fukuroda fall has faces of four season. This winter fall is the most unique face of that fall. Most of waterfalls in northern Kanto will be frozen up in the winter. So, if you are in waterfalls, check those frozen falls, too.


Be careful, when the waterfalls are frozen up, roads are also frozen up. It will be very slippy when you drive.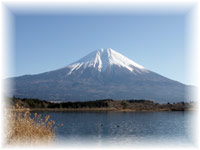 Mt. Fuji is most beautiful in winter




It is also great season to see Mt.Fuji because winter air in Japan is so clear that you can watch great view of Mt.Fuji from everywhere in Tokyo are. Do be satisfied the view of Mt.Fuji from Tokyo. If you can see Mt. Fuji from Tokyo, you will have the master vision of Mt. Fuji nearby the mountain. When the Lake Yamanaka is frozen up, you can enjoy, ice-skating and on ice fishing.



If you are really lucky, you could see The Ushiku Great Buddha from Tokyo skyscrapers.