Kyoto east area for Beginners
Kyoto is the most famous travel spot in Japan. Because it has over 1,200 years of history and over 500 splendid shrines and temples, there are almost too many beautiful spots to see for your limited time. MLJ introduces Gion to Kiyomizu-dera travel for Kyoto beginners. This travel offers the best Kyoto Scenic Beauty. Especially, the back streets of Gion, suchi as Ishibei-Koji, Ninenzaka and Nene no Michi are the best place to walk around with Kimono. This trip takes one day by walking and offers Kyoto.
Kiyomizu Temple
Get the Flash Player
to see this video.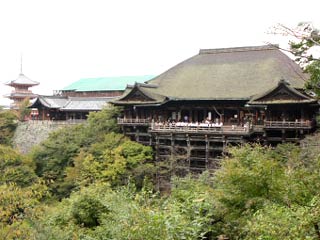 Travel Information
Great Temple with Giant Stage
Kiyomizu Temple (清水寺, kiyomizu-dera) is one of the most popular temples in Kyoto. Kiyomizu Temple was established in 778 by priest Enchin. It is one of the oldest temple in Japan. Therefore, there are many historically important buildings including National Treasures. Also, it is designated as one of UNESCO World Heritage Site of Kyoto. Over 1,200 years, It was highly respected as "Kiyomizu no Kannon-san."

Visitor's Info.
Admission: 300 yen for adult, 200 yen for kids.
Open: 6:00 to 18:00 (close early in winter, and later in summer)
It opens at night in limited period (check out the official web for detail)
No parking. No parking around the temple either.

Access
0. at Kyoto Station.
1. use Local bus (207 city bus) to Kiyomizu michi.
2. walk (10 min.)

The contents of this feature