Mountains
Mountains and hills.
Japanese mountains offer from easy one day hiking to hard time climbing for all season. Mountains have different faces for each season. In the spring, you can enjoy snow and flower blooming. In summer, they become easy hiking course with beautiful trees. In fall, you can see the great autumn colors. In winter, some of the mountains become the hardest mountain to clime. Japanese mountains are also very beautiful to see from far sight. Mt. Fuji is the mountain to watch and feel.
The contents of this Subcategory
Mt. Takao
Get the Flash Player
to see this video.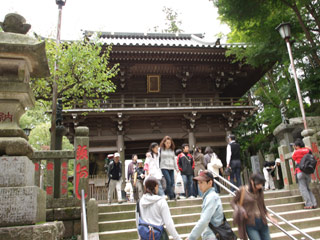 Travel Information
Best Tourist Mountain in Tokyo
Mount Takao (高尾山) is a 600 metre high mountain located in Hachioji, Tokyo and is said to be one of 100 best landscapes in Japan. The Michelin Guide also rates it as a three star attraction; their highest ranking. It is the most popular mountain in Tokyo, so although the mountain is a long way to the west, there's still convenient public transportation making it very easy to visit for hiking. On the top of mountain, there is a twelve hundred year old temple and you can enjoy great views of Mount Fuji on a clear day. There are seven hiking routes to climb this mountain, and cable car is also available if you're not feeling that energetic. Mount Takao is a great mountain for a one day hike with easy access from Tokyo.

Tourist Info.
There are parking space, shops and restaurants.

Access
0. at Shinjuku Station
1. Use Keio Line to Takaosanguchi (50 min.)
Tour Advice
Recommended month
1
2
3
4
5
6
7
8
9
10
11
12
Spending Time

3 hr. 20 min