Four National Treasure Castles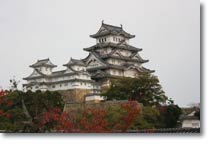 There are 12 existed remaining castle since Sengoku period. Four of them are also chosen as the national treasure of Japan. Himeji Castle, Matsumoto Castle, Hikone Castle and Inuyama Castle are one of the real and the most beautiful castles. As a fortress, there are many ruins of stone walls, moats and gates. Also, you can see the real Sengoku architectures. Check them out, and feel Sengoku Period of Japan.

Himeji castle
Get the Flash Player
to see this video.

Travel Information
Most Beautiful Castle in the World
Himeji castle (姫路城) is one of Japan's three most famous castles and is the most visited castle in Japan. It is located in Himeji in Hyõgo Prefecture. It is also known as Shirasagi castle which means "White Heron castle (白鷺城, shirasagi-jo)" because of its brilliant white walls. It is one of the 12 Existed Castles, and National Treasure of Japan.

Tourist Info.
Admission: 600 yen and 200 yen for kids. There is group discount.
Open: 9:00 to 17:00 (last entering at 16:00) in winter. Opens until 18:00 in summer.

Access
0. at Himeji Station
1. walk north (15 min.)
The contents of this feature