Spring has arrived at Izu Peninsula!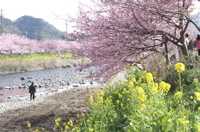 Kawazu River


Check out the Kawazu-Zakura! Kawazu town has already arrived Spring with beautiful Cherry Blossoms! Not like Someiyoshino which is the most planted Sakura in Tokyo, Kawazu-Zakura has beautiful color of pink and keeps flowers about one month. With the blue sky and yellow of field mustard, Kawazu-zakura creates the great color art of nature. There are hundreds of Kawazu-zakura are planted both side of Kawazu river. Just walking along the river, you will feel the beautiful arrival of Spring.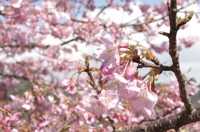 Kawazu Sakura


From the February 10 to March 10, Kawazu holds Sakura Festival. So, you can enjoy beautiful Sakura with various kinds of foods and events. For the foods, the festival serves many delicacies of local foods, especially you can eat the best Wasabi in the world in Kawazu. There is photo event which you can take a photograph with traditional Izu dancers. At night, Kawazu-zakura will be beautifully lighted up.





Kawazu Sakura Avenue


Kawazu is also one of the popular Onsen spot in Izu Peninsula. There are many hot springs which still strongly blowout from the grand. At Mine Onsen Daifunto which is located right around the Kawazu river, it has great demonstration of Hot Spring which reaches up to 30m high. So, traveling Kawazu in this season, you can enjoy the beautiful arrival of spring with Kawazu-zakura and one of the best Onsen at the same time. Of course, the Kawazu Seven waterfalls and Joren falls are also the popular travel spots in Kawazu.




Not only Kawazu, but Spring has already arrived everywhere in Izu Peninsula. You can see beautiful cherry blossoms and Plum blossoms in Izu.




Enjoy early arrival of Spring at Izu Peninsula.


 Kawazu-zakura festival>>


 Great Spring>>


 Kawazu Nanadaru(seven waterfalls)>>