Chushingura Spots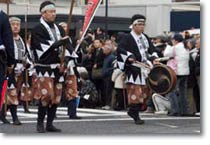 Chushingura is one of the most popular and famous Samurai story from Edo period. It is also known as 47 ronin. The story of Chushingura is based on the story of "Genroku Ako Jiken," that is the revenge for a lord and justice according to Bushido. There are many Chushingura related spots and traveling those spots are very popular historic tour.

The Imperial Palace Eastern Garden
Get the Flash Player
to see this video.

Travel Information
The Imperial Palace
The Imperial Palace Easter Garden(皇居東御苑, kokyohigashigyoen) is also the ruins of Edo Castle(江戸城). It was the Honmaru and Ooku was located during the Edo period. It was used to be the center of Tokugawa Government and the castle of Tokugawa Shogun. After the Meiji Restoration, it becomes the Imperial Palace of Japan. The eastern garden is the part of the palace where opens for public. There are beautiful Japanese gardens and many ruins of Edo Castle, such as the gate, stone walls, moat and houses are still existed.

Visitors Info.
Opens: Tuesday, Wednesday and Thursday from 9:00 to 16:00 (in summer, opens till 17:00. No admission fee. Notice: This is the part of the Imperial Palace, so there are many police watching any kinds of activities. There is no party, or exercise allowed in the garden. Please keep the great manner and stay away from the restricted area when you visit here.

Access
0. at Tokyo Station
1. walk west (15 min.)

Tour Advice
Recommended month
1
2
3
4
5
6
7
8
9
10
11
12
The contents of this feature