Time to see the shower of Cherry Blossom!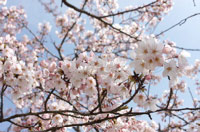 Sakura at Kinugasayama


Have you checked out Sakura (Cherry Blossom) yet? The best Hanami party weekend is over, but you can still check out Sakura. All Sakura in Tokyo has bloomed to full this week. So, it is a time to see the shower of Cherry Blossom petals, called "Sakura Fubuki(桜吹雪)." Japanese people finds the beautify in the falling shower of Sakura Blossom petals. When the light pink Sakura flowers fall, it looks like snowing with beautiful daylight. Especially, Somei-Yoshino, which is the most planted spicies of Sakura in Japan, gives a beautiful shower. Also, in April, a strong gust in early spring blows, making Sakura flowers fly in the air.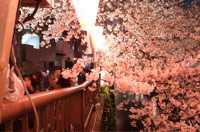 Yozakura at Meguro River


Another approach to enjoy Sakura is Yozakura. Yozakura literally means watching Sakura at Night. Many Sakura places are litten up for Yozakura. For example, Meguro river presents beautiful Yozakura scene. So, after you finish working or traveling around Tokyo, and if you still have time, visit Meguro river to see beautiful Yozakura.




Yokohama zakura


There are many Sakura Trees planted. In this period, you can see beautiful Cherry Blossoms everywhere in Japan. Most of Sakura are "Somei-Yoshino," but there are many spiecies of Sakura trees. Yamazakura has a stronger pink petal. "Shidare-zakura" has a unique shape.

"Somei-Yoshino" blooms at the same moment, but other kinds of Sakura bloom in different timing. So, even you miss Hanami with Somei-Yoshino, there are still chance to see other Sakura Blossom.



Enjoy Japanese Spring!