Wasabi, Japanese hourse raddish
Wasabi is not only for Sushi and Sashimi. It is actually used in many way. For example, when you eat Soba, you should add Wasabi into dipping sauce. If you are looking for various kinds of Wasabi produces and fresh Wasabi, because Wasabi taste so good when it's fresh, check out MustLoveJapan Wasabi spots. We recommend to check out Wasabi Ice Cream and Wasabi Mayonnaise.
Daio Wasabi Farm
Get the Flash Player
to see this video.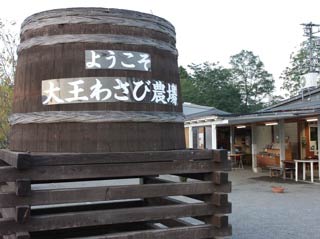 Travel Information
Beautiful Wasabi Farm
Daio Wasabi Farm (大王わさび農場) is located in Azumino, Nagano. Daio Wasabi Farm is not just farm but also have many tourist attraction with Wasabi, and various kinds of Wasabi products including Wasabi Soft-cream. The farm is access free, so that you can see real wasabi field. Also, they have experiencing making Wasabi-zuke, pickled wasabi. You can buy fresh Wasabi, and all other kinds of Wasabi related food.

Tourist Info.
There is free parking.
Business hours: 8:30 to 17:30, change in the season.
Experiencing making wasabizuke: 1000 yen.

Access
0. at Matsumoto Station
1. use JR Oito Line to Hodaka (24 min.)
2. take a taxi (10 min.)
The contents of this feature