Shopping in Yokohama area
Tokyo is not only spots for all hip and young gather. Yokohama also has many shopping spots for all fashions. Especially, Minato Mirai 21 has lots of huge shopping malls. The west side of Yokohama west entrance is like Shinjuku, which has all kinds entertainments, music, fashion and of course Yodobashi camera and Big camera for electric shops.

Minato Mirai 21
Get the Flash Player
to see this video.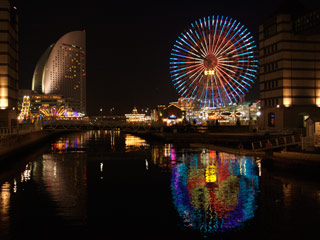 Travel Information
Town of Young to Family
Minato Mirai 21 (みなとみらい21) , also known as MM21, is a large urban shopping and entertainment district right next to Yokohama Station. The name means "Habor Future 21st century. Built largely on reclaimed land, the area now features the Landmark Tower, the tallest skyscraper in Japan, the Queen's Square shopping mall, Pacifico convention center, excellent Hotels and more. There are also many entertainment facilities, such as museum, theatre and amusement park, as well as many restaurant.

Tourist Info.
There are many parking spaces. Access, easily from Tokyo.

Access
0. at Yokohama St.
1. use Minato Mirai Line to Minato Mirai (4 min.)
The contents of this feature