Fuji Five Lakes a.k.a. Fujigoko
Around the north side of Mt. Fuji, there are five lakes called Fuji Five Laks (Fujigoko). Fuji Five Lakes are Yamanaka, Kawaguchi, Sai, Shoji and Motosu. All of the lakes are well preserved nature, and have a great look of Mt. Fuji. Not only they have been great sightseeing spots of Mt. Fuji, but also had lots of activities such as hiking, fishing, and spots. There are many spots facilities and people visit here for their summer vacation.

Lk.Yamanaka Summarized
Get the Flash Player
to see this video.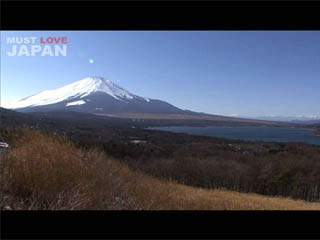 Travel Information
1 of the best views of Mt. Fuji
Lake Yamanaka (山中湖, yamanakako) is the one of the most famous lakes in Japan, because you can see beautiful Mt.Fuji. Lake Yamanaka is the one of the five lakes around Mt.Fuji. In Lake Yamanaka, you can do any kind of marine sports. Air is so fresh and water is so pure, that's why every thing taste so good. Lake Yamanaka is preserved as a national park, that's why there are many beautiful natures. When you drive around Mt.Fuji, you can get great view point of Mt. Fuji every where. The transportation of Lake Yamanaka is actually very convenient. Some people have house around here and work at Tokyo. There are many restaurants, even Denney's are here. It maybe tastes different. You can also enjoy, horse riding, hot spa, and boat riding. Lake Yamanaka and Mt.Fuji, just see and feel it.
Access
0. at Kawaguchiko St.
1. take Fujikyuko to Fujiyoshida (4 min.)
2. take local bus to Lake Yamanakako (30 min.)
Tour Advice
Recommended month
1
2
3
4
5
6
7
8
9
10
11
12
Spending Time

1 hr. 30 min
The contents of this feature