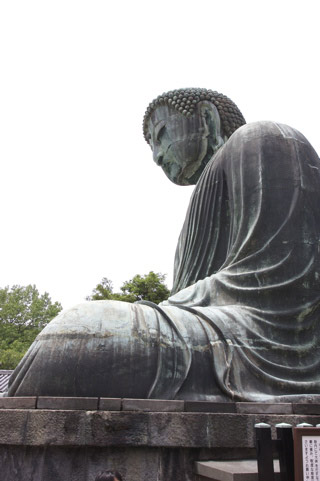 The Great Buddha of Kamakura is a monumental outdoor bronze statue of Amitābha Buddha in the Kōtoku-in Temple in Kamakura, Kanagawa Prefecture, Japan.
It is believed that the statue was originally cast in 1252, following an idea by the priest Joko, who also collected donations to build it. The sculptors were One-Goroemon and Tanji-Hisatomo. However, there are not enough evidence to proof who build for what reason. Not like the Great Buddha in Nara, Kamakura Daibutu keeps the original shape.
The statue is approximately 13.35m tall and weighs approximately 93 tons. The statue is hollow, and visitors can view the interior for a mere 20 Yen a person.
The Great Buddha was originally housed in a temple, but this was washed away by a tsunami in 1498. Since then the statue has stood in the open air. Repairs were carried out in 1960-1961, when the neck was strengthened and measures were taken to protect it from earthquakes.
There is slipper of the Buddha.
Details
• Weight; 93 tons
• Height; 13.35m
• Length of Face; 2.35m
• Length of Eye; 1.0m
• Length of Mouth; 0.82m
• Length of Ear; 1.90m
• Length from knee to knee; 9.10m
• Circumference of thumb; 0.85m
(reference: wikipedia)