Tohoku is moving forward
Kesennuma Yokocho


It's been 3 years since Tsunami attacked Tohoku in 2011. Tohoku is still restoring from the damage, and people in Tohoku are very energetic and lively again. They have a strong power to move forward. One of the best way to support them is visiting Tohoku for travel, and enjoy their food and products. There are many tasty seafood and local foods that served by shopping malls and market. Kesennuma Yokocho is a portable stall shopping mall of Kesennuma. There are many great seafood restaurants that have fresh seafood from Kesennuma.




Sansanshotengai


Sansan Shopping Mall is another prefab shopping mall located at Minamisanriku, Miyagi prefecture. There are 30 stores and restaurants open at this mall. Minamisanriku was also seriously destroyed by Tsunami, but now they have very powerful shopping mall to start their own restoration. Shizugawa is very famous for Octopus, and their are many restaurants and stores that sale great Octopus food and products.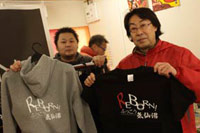 Fukkoshoutengai


Fukko Shotengai is another prefab shopping mall. This is one of the largest mall in Tohoku. it offers great food of Kesennuma as well. Also, their fish marketplace at the port is also fully restored.



It's been 3 years since 2011. Let's travel Tohoku, enjoy their food, see their smile and buy their food. This is one of the best way to support Tohoku.

Don't Forget Tohoku. They are moving forward.