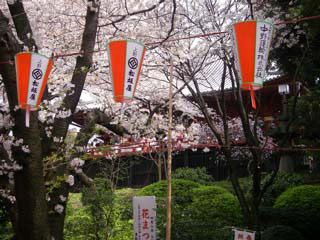 Ueno Park, adjacent to the station, is home to most of the attractions in the area, including the Ueno Zoo and a concentration of Japan's best museums. In cherry blossom season, Ueno Park is Tokyo's most popular spot for outdoor hanami parties.
Saigo Takamori Statue. Near the main entrance to the park from JR station stands an unassuming statue of a pudgy man walking his dog. This is Saigo Takamori, a famous samurai general best known for leading the doomed Satsuma Rebellion against the Meiji government and the inspiration for Hollywood blockbuster The Last Samurai). These days, it's the canonical place for meeting people at the park.
Ueno Zoo has over three hundred animals, including its star attractions, the giant pandas. Open 9:30AM-4:30PM (last entry 4PM) Tue-Sun. Admission \600
Tokyo National Museum. A gigantic complex that houses almost 100,000 art objects covering Japanese history from the Jomon period to the 20th centruy. Some descriptions are in English. General admission \420, university students \130, high school and younger free. Open daily 9:30 AM to 5:00 PM, closed Mon. Special exhibitions charge separate admission fees. Admission includes access to the following buildings.
(Reference: wikipedia, wikitravel)