BLACKOUT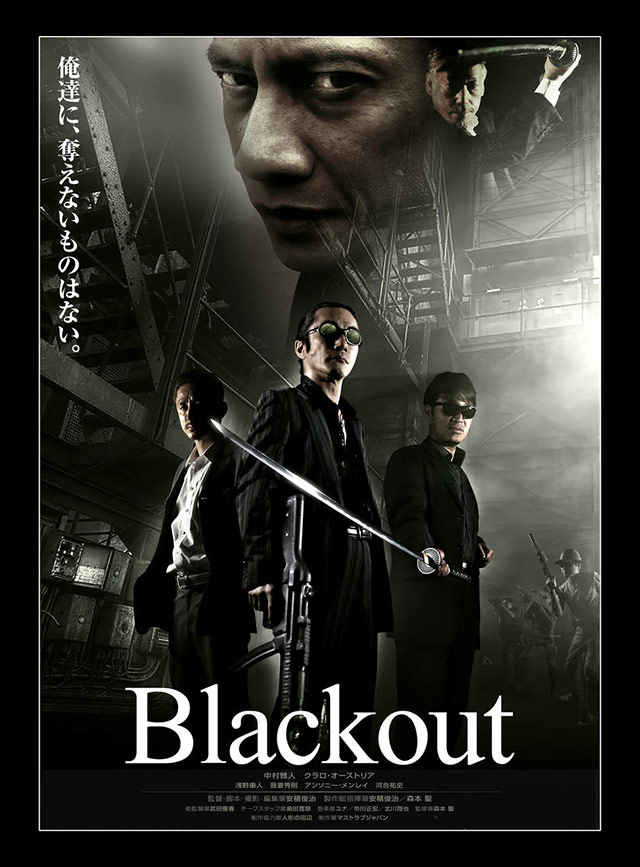 Features
Japanese YAKUZA style thieves take back the uranium for a nuke from the international terrorists who steal it from Japanese nuclear power plant. It's an action movie of Bad guys against bad guys. The Samurai master fights against the armed terrorists with his sword. Unfortunately, the terrorist also hires the great sword master, too. To steal the uranium, Yakuza has to defeat the sword master by sword fighting.

Feel the real samurai sword fighting scene by two real sword masters. Yasuhito Asano is the real certificated sword master of Shinkage-ryu and Eishinryu with over 30 years of experience. He is the also the real descendant of Lord Asano of 47 Ronin. So, he is the real Samurai.
Synopsis
Japan. It's a peaceful and quiet country. However, there are 43 nuclear power plants with powerful Uranium that could be used for a bomb, as well.
The enriched uranium was stolen by the international terrorists. They made a deal with the terrorist organization of the middle east those who try to make a nuke.
Kanzaki, who looks and act like YAKUZA, with his right hand Kuroda, who is also the Japanese sword master, decided to steal back the Uranium from the terrorist. The terrorists are heavily armed with automatic guns under the high-security system, and there is a special sword master as their bodyguard. Only two people with Samurai sword and guns go against one of the top crazy international terrorists with automatic guns.
Award & Selected Detail
Stuff and Cast
The stuff

Director&Writer:Toshi Asaka
Music:Masahiro Ichikawa, Shoya Kitagawa, Yuna Ohori
Camera Operator:Toshi Asaka, Yuka Takeda
Supervisor : Hitoshi Morimoto
Chief Stuff:Kanji Shimada
Graphic Design : Yuichi Inakoshi

Cast
Mr.Kanzaki:Masato Nakamura
Mr.Sakamoto:Yasuhito Asano
Victor Han : Curaro Austria
Kevin : Anthony Manley
Chief:Hidenori Wagatsuma
Mr.Kuroda : Toshi Asaka
Mr.Suzuki : Naoyuki Sakai
Haru : Haruka
Terrorist 1 : Kanji Shimada
Terrorist 2 : Takayuki Hattori
Terrorist 3 : Takuma Yokoo
Terrorist 4 : Koichi Ujiie
Terrorist 5 : Masato Nakamura
Terrorist 6 : Toshi Asaka
Terrorist 7 : Ryosuke Shimada
Terrorist 8 : Hidenori Wagatsuma
Mr.Kiba : Hirofumi Kawai
Mr.Nishi : Kenji Kawata
TV Caster : Kahori Saito
Lady Spy:Lita Lilita
Bartender : Nanako Aota

Voice
TV Caster : Suzanne Banister
Terrorist : Rob Garaghty

Detail
Production Year : 2017
Movie Length:42min. 38sec.
Language : English
Budget:3,000 USD
Genre : Action
Special Thanks : Doll Shop Tanabe
Location : Tokyo, Yokohama, Uenohara


Trailer
The Interview with crews and casts