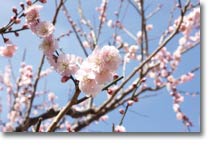 Ume is the most favorite flowers for Japanese. It has beautiful combination of colors, such as red, light-red, pink, yellow, and white with sweet smell. It is little chilly to do Hanami party with Ume, but definitely beautiful flowers to enjoy.

At the southern part of Kanto region like Kanagawa prefecture, Ume is already blooming. Yugawara Bairin and Soga Bairin are one of the best Ume Hanami spots in Kanto region. Both are located around Odawara, so it is kind of far from Tokyo. However, the scale of the park (Bairin) is so huge. Especially, Yugawara Bairin has also great "Onsen," hot spring, and nice hiking courses. So, check out Yugawara Bairin by one day hiking, and visit "Onsen" at Yugawara for your next weekend.

If you don't have much time to visit those Ume spots, you can also check out Okurayama Bairin which is very small, but also has great collection of Ume trees. Okurayama is very close from Tokyo. It will only take 30 min. from Shibuya Station. They have also food stands and ceremony for the festival. Check Also, Ikegami Baien is another choice for you.

Enjoy Ume flowers for arrival of Japanese Spring. After you enjoy Ume flowers, Sakura is coming soon.