It's the time we were waiting for: Hanami party!
Hanami at Mitsuike koen


Join and enjoy Hanami party for Sakura. Finally, Sakura in Tokyo is blooming to let us know the arrival of spring. It is Japanese custom to hold Hanami party. Hanami party is the most popular and important party, held in this season to celebrate the beauty of the coming season. Most of Japanese companies and groups will hold their Hanami party at their favorite spots; which means most Japanese go Hanami several times. There are hundreds of Hanami spots in Tokyo and Kanto area alone. It's time for you to find your own Hanami spots.

Mitsuike park is one of the best hanami spots in Kanagawa prefecture. Mostly, at Hanami party, people enjoy Someiyoshino (a specie of Sakura that is most popular in Tokyo area), but Mitsuike park has the beautiful Shidare -zakura(seeping cherry tree).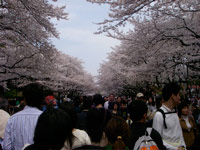 Hanami at Ueno Park


There is a official Sakura-tree that the Meteorological Office uses to measure the Sakura blossom in Yasukuni Shrine. In 2009, the announcement is made right in this week!

The Chidorigafuchi, which is a part of the imperial palace right next to Yasukuni Shrine, is also famous Hanami spot.

Measured by the Hanami-population, the Ueno Park is the most favorite Hanami spot in Tokyo. Three hundred thousands of people enjoy Hanami at Ueno park everyday.

At the Sumida river, some people hire the party shops. Watching sakura from the boat on the river is also one of the traditional Hanami party style.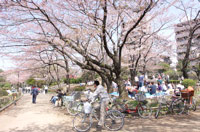 Hanami at Sumida Park


So clouded the place, you have to wake up really early in the morning to get the excellent position for Hanami. It is Japanese custom that the freshmen in the group take the place for their seniors.

At Hanami party, most people bring their own foods and drinks. However, famous Hanami spots have food stands. So, even if you consume all the goodness you brought, you can still get more.



Enjoy Hanami and arrival of Japanese spring!



Check out the Kanto Hanami spots