Hiking, wandering and getting into Fuji's Lava!
the Fuji Jukai


Japan is getting warmer and warmer everyday in the season. It's a good time to enjoy hiking. We suggest hiking around Lake Sai and Lake Motosu in Yamanashi. The Aokigahara Jukai, also known as Fuji Deep Forest, is a very interesting forest. It is a huge forest spread all over northern part of Mt. Fuji. Jukai is made on top of Mt. Fuji's Lava several hundreds of years ago. When you walk in the Jukai, you will be walking on actual Mt Fuji's lava . It will be very exciting experience to watch the very unique texture of trees and lava covering the foot of Mt Fuji. Besides, there is another interesting (and dark) secret within Jukai. Check our video instruction for more information.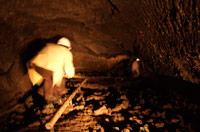 the Bat Cave




After you enjoy hiking in Jukai, visit the abandance of Lava Caves around Lake Sai. To name a few, there are the ice cave, the wind cave, and the bat cave. All of them (and plenty of others) are made by the process of lava cooling down effect. You can check out the real lava textures which have kept the original figure for thousands of years. All the caves are litten-up for your safe ventures.




the Fuji from Motosu


If you stiil have time after lava caves, check out the lakes: Lake Sai and Lake Shoji. The last Mt. Fuji eruption hundreds of years ago, the lava flow was stopped by these lakes. You can see how the lava approached and banked up at the lakeside. When you have extra time, bring Japanese 1000 yen bill at south side of Lake Motosu. The bill takes that image of Mt. Fuji.



Have a good hike!