Visit East Mikawa: the history and great nature.
Nagashino


Japanese Raining Season, "tsuyu," is finally over, and the weather will be great for a month. MustLoveJapan introduces the beautiful nature of Shinshiro city. Shinshiro is located at eastern part of Aichi Prefecture. It has lots of great waterfalls, mountains, and rivers; moreover, it is also very important historic spot. Shinshiro is the where the Battle of Nagashino happened.



Shitaragahara is small valley where Takeda Katsuyori and Oda Nobunaga fought for their fortune around 450 years ago. It is also known as the battle of Nagashino. It is considered as one of the most important battle scenes in the history of Japan. Today, you can visit many of ruins including the barricade, the headquarters and the castle. It offers nice one day hiking to visit all ruins. It is must see spots if you are interested in the history of Sengoku Period.




Hyakken Falls


Shinshiro is not only known for its battle spots, but it has many beautiful natures. Chiiwa Valley and Mt. Chiiwa is one of the nature monument of Japan and popular hiking spot in Aichi Prefecture. Especially, Mt. Chiiwa has very unique cliff and tunnel.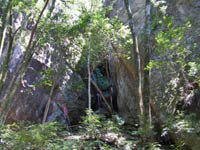 Mt. Chiiwa


The waterfalls of Shinshiro are the best in Aichi. Especially Hyakken Falls which is the highest falls in Aichi, and Atera Seven Falls which is one of the 100 best waterfalls in Japan. There are several more waterfalls in Shinshiro and all of them are beautiful. Right after the raining season is the best timing to visit waterfalls, so check them out and enjoy the beautiful nature of Shinshiro.



Note: You can visit those spot by walking, but we recommend you to use a car to visit all the spots!