Visit the Great Buddha, Daibutsu, of Kanto.
The Golden week holidays is coming next week. Have you made your plan already? If Not, then it's a good time to visit the Great Buddha, a.k.a. Daibutsu, to feel the powerful soul of Buddhism. MLJ proposes you a Daibutsu tour in Kanto. We picked up a collection of Daibutsu in Kanto region.

- There are many Daibutsu in Japan. The most famous Daibutsu in Japan is in Todaiji, Nara. But unfortunately, it's not in Kanto area, and not easy to visit from Tokyo.


the Kamakura Daibutsu




Have you met the Kamakura Daibutsu, the scond most famous Daibutsu. Kamakura Daibutsu is the most historic Daibutsu in Japan, since it has been preserved the original shape without the major repairing for over 700 years. The area of Kamakura, the birthplace of Samurai, is a trove of historical temples. Visiting the Kamakura Daibutsu is like visiting the history of Japan.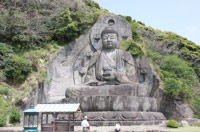 the Nihonji-temple Daibutsu


The Nihonji Daibutsu is the next historic Daibutsu in Kanto. It is even bigger than Kamakura or Todaiji Daibutsu. Nihonji, which literary means the temple of Japan, is the oldest temple in Kanto which established in 725. Nihonji Daibutsu was originally built in 1783, but because of the weathering, it was rebuilt in 1969. Nihonji Daibutsu stands in rich nature: Mt. Nokogiriyama. The mountain is one of the most popular travel spot in Chiba. From the rocky mountain, you can enjoy the great view of Boso Peninsula and Tokyo Bay. Traveling up to the Nihonji Temple through Mt. Nokorigiyama is a little hiking course which is covered with thousands of Buddha statues. You can feel the religious belief in old Japanese's mind at Nihonji Temple.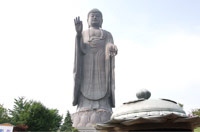 the Ushiku Daibutsu


If you think you have seen it all, MLJ strongly recommend you the Ushiku Daibutsu, the tallest Great Buddha in Japan (and second biggest Buddha statue in the world.) Ushiku Daibutsu is 120 meters high; so much larger, it can hold the Todaiji Daibtusu on its hand. It is just incredible. It's two and half times higher than the Statue of Liberty in US. Definitely, you can feel the awe to this Buddha. You can enter the inside of Ushiku Daibutsu to feel and to be a part of Buddha.



At the foot of Daibutsu, even if you are not Buddhist, you can still feel the great soul and peace! If you don't have a plan for this Golden-Week holiday, visiting a Daibutsu would be a great plan. Must love Daibutsu!