Kyoto for Beginners: from Gion to Kiyomizu-dera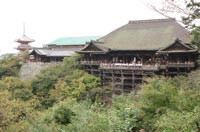 Kiyomizu Temple


Kyoto is the most famous travel spot in Japan. Because it has over 1,200 years of history and over 500 splendid shrines and temples, there are almost too many beautiful spots to see for your limited time. MLJ introduces Gion to Kiyomizu-dera travel for Kyoto beginners. This travel offers the best Kyoto Scenic Beauty. Especially, the back streets of Gion, suchi as Ishibei-Koji, Ninenzaka and Nene no Michi are the best place to walk around with Kimono. This trip takes one day by walking and offers Kyoto.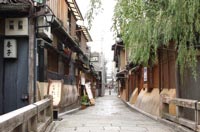 Gion-Shinmachi


This travel starts at Gion which is located middle eastern area. The scenery of Gion is what everyone think of Kyoto. However, some of the spot is hidden from the main street. Let's start from Gion-Shinmachi. Then, travel to Hanami-koji street which is the major street of Gion. This street has many established Kyoto restaurants, teahouses and hotels. This street ends at Kenninji. Kenninji is the oldest Zen temple in Kyoto. If you like the sprit of Zen, visit Kenninji.




Ishibei-Koji St.


After Kenninji, now MLJ lead you to the very interesting back street of Kyoto. It begins with Ishibei-Koji. Ishibei-Koji is a beautiful Kyoto style narrow street. It will end at Nene no Michi. Nene no Michi is the best street walk around with Kimono. On Nene no Michi, there is temples which established by Nene, the wife of Toyotomi Hideyoshi. There is also the grave of Hideyoshi. So, this street is great for Hideyoshi fan, as well. At the end of Nene no Michi, it continues to Ninen-zaka and Sannenzaka. They are great street with full of restaurants, food stands, teahouses and gift shops. The entire area of these street are registered as preserved scenery with important historical buildings. Then, they end at Kiyomizu michi. It's one of the most popular shopping spot in Kyoto and end at Kiyomizu Temple. Kiyomizu Temple is one of the most famous temple in Japan, and registered as UNESCO World Heritage Site.



This one day walking trip of Gion and Kiyomizu area offers the view of what everyone think of Kyoto including one of the best temple in Japan. Enjoy Kyoto!