Join Tokyo Hot Summer Festival!
Tanabata


August in Tokyo is a continuous flow of great Festivals. Because of a summer vacation, Tokyo is not a business city, but turns into an entertainment city: fireworks, matsuri, events, and festival. The season starts with Asagaya Tanabata Festival which took place on August 5th to 9th in Asagaya Shopping district. Like Hiratsuka Tanabata Festival, there are many paper arts displayed at the arcade of Asagaya. If you missed Hiratsuka Tanabata Festival, you should check this out. Also, at the same time there is a huge Hachioji matsuri.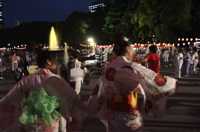 Bon odori


Fukagawa will have Matsuri on August 13 to 15 which is one of the Three Major Edo Matsuri as well as Sanno, and Kanda Matsuri, which were considered the best matsuri since the Edo-period.




Awa Odori


If you love Bon Odori Festival, check out the Marunouchi Ondo at Hibiya Park on August 21 and 22. It is the biggest Bon Odori Festival in the middle of Tokyo. It is very easy to join at the center of Tokyo metro. There are many food stands and drink services. Even you have never tried Bon Odori Dance, there are instructors you can learn from. Feel free to join this festival.


Samba Carnival




At the end of August, there are Koenji Awa-Odori and Asakusa Samba Carnival. Both will be held at August 29. You can enjoy either great traditional Awa Dance ceremonies to which over 16 dance team join. Or get yourself excited by checking out Samba Carnival.



Enjoy Summer of Japan!